In Case You Missed Us at IFT 2023
We are still buzzing with excitement from our unforgettable time at the IFT First trade show, where innovation and inspiration collided in a dazzling display of culinary science. MicroThermics had the immense pleasure of meeting countless visionary individuals and sharing the future of food processing with the world. If you couldn't make it to our booth at IFT, you missed the unveiling of our groundbreaking AI DIPW UHT/HTST Lab Processor.
You absolutely need to know about this transformative product that merges precision, efficiency, and innovation in a spectacular symphony of flavor and functionality. Dive into the future of food processing with us with the AI DIPW UHT/HTST Lab Processor. Read the full press release below: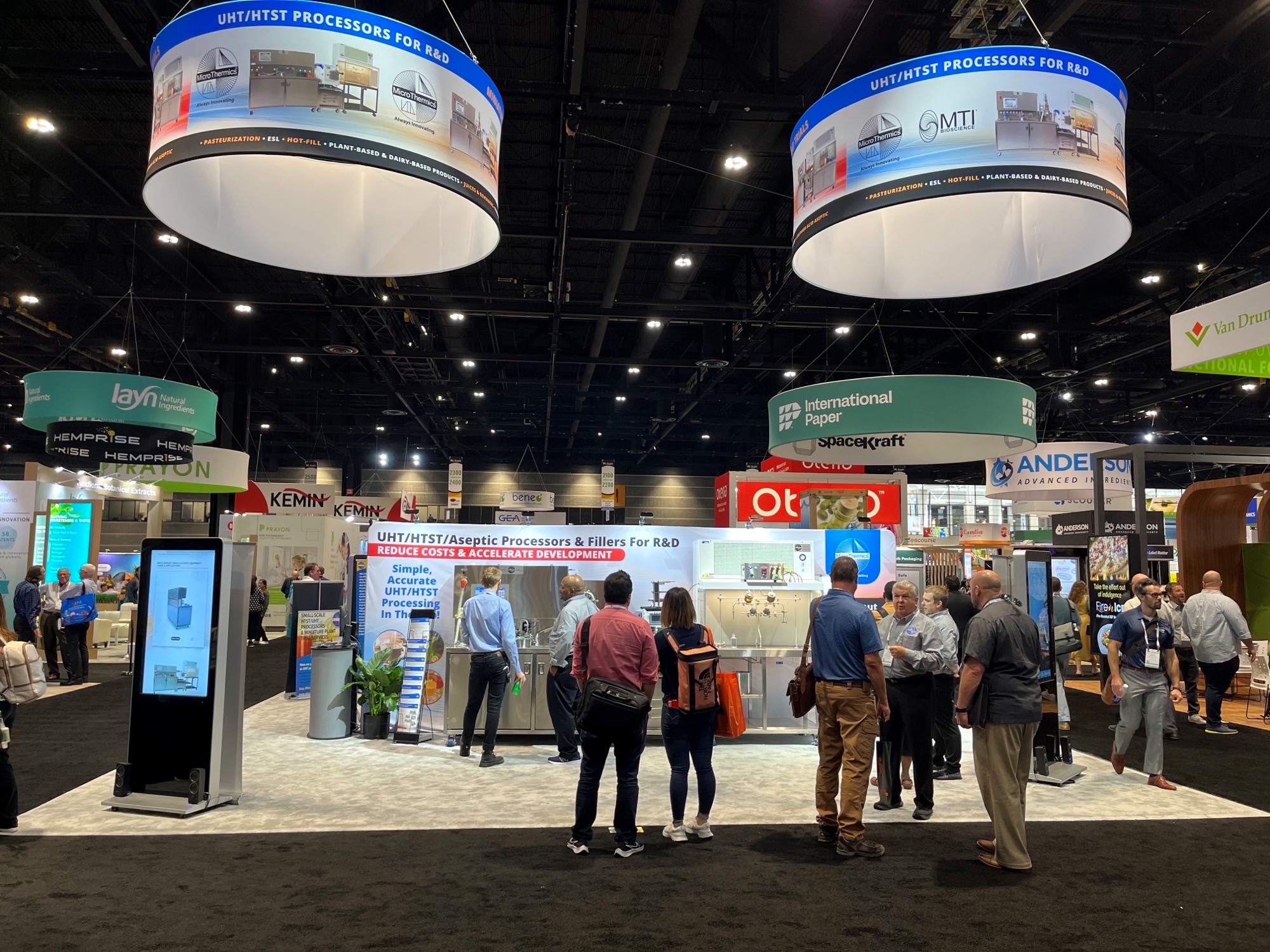 MicroThermics, Inc. Unveils New AI DIPW Processing Equipment to Redefine the Landscape of Precision Food & Beverage Processing
Raleigh, NC—August 17, 2023—MicroThermics, Inc., MicroThermics, Inc. specializes in providing advanced processing equipment and solutions for the food & beverage industry, emphasizing innovation, precision, and efficiency.
This technological breakthrough is a testament to our dedication to innovation and excellence. With our AI-powered solution, food and beverage producers can achieve unprecedented levels of accuracy, consistency, and efficiency, setting new standards for the industry.
Reimagine Traditional Processing Methodologies
MicroThermics' AI DIPW Processors harness full automation and digital integration to deliver unparalleled levels of accuracy, efficiency, and consistency in the production of liquid food and beverages. This cutting-edge system reimagines traditional processing methodologies, ushering a new era of precision manufacturing.
The new AI DIPW Processor from MicroThermics marks a significant step towards the future of precision processing in the food & beverage sector. With its blend of full automation, digital precision, and customization capabilities, this revolutionary equipment promises to empower manufacturers to elevate their product development and streamline their operations.
Fast, Easy & Convenient To Use
Run the entire process with the push of a button!
Ease-of-Ownership
Features durable, sanitary designs, automated set-up guides, intuitive touchscreen controls, and highly automated operations.
Process Accuracy
MicroThermics, specializes in process-matching and scaling up/down thermal processes. Seamlessly go from research directly to production!
Process Flexibility
The AI Series Processors are capable of processing at both UHT and HTST temperature ranges in a single processing line.
MicroThermics, Inc. is a trailblazer in advanced food & beverage processing technology. By integrating automation, digital precision, and customizable profiles, their solutions optimize accuracy, consistency, and sustainability, empowering manufactures to enhance product quality and operational efficiency.
To learn more about the AI DIPW Lab Processor or any of our products and services please contact us. We'd love to help you revolutionize your processing needs.
The AI DIPW Processor signifies more than just a product; it symbolizes a transformative shift in the way we approach culinary science.