New AI DIPW Series Steam Injection UHT/HTST Processor Equipment Usage & Applications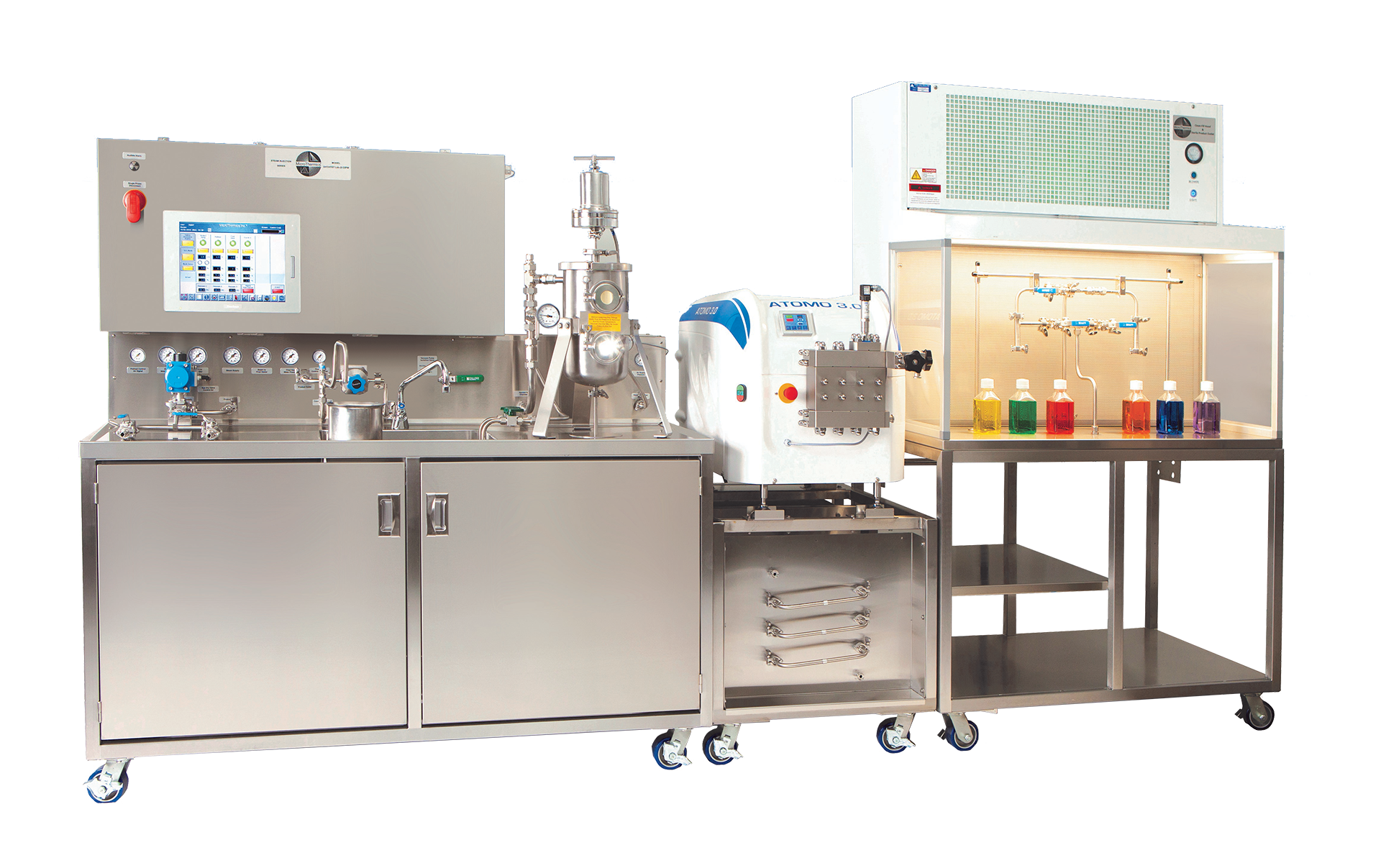 AI Direct / Indirect (AI DIPW) Lab UHT/HTST Processing Line Benefit Highlights
MicroThermics' highly automated AI Direct/Indirect (AI DIPW) Lab UHT/HTST Processing Lines are extremely; easy to use, flexible, and accurate to the production process. The thermal processors are fully integrated with our in-line homogenizers, Ultra-Clean Fill Hoods and AccuFill controls. Our sequential automation reduces operator errors and training needs. Additionally, our AI-DIPW sterilizes, reaches process conditions, and cleans up faster and more easily, resulting in more processing time.
During use, our Set-Up Guide walks the operator through preparing for the process. They simply select the process (steam injection or indirect), and answer a few basic questions. The processor then displays the flow diagram and jumper set-up. After setting up, the operator pushes the "Start" button, and is "hands-off" from there! The equipment automatically starts-up, conducts SIP (sterilization), transitions to process conditions, and alerts the researchers when it is time to process product.
Operators can then process their products and even change processing conditions throughout the day. When processing is complete, CIP and shut down automation also dramatically reduces operator involvement. MicroThermics' AI processing lines make R&D easier. They help you get more processing done, in less time, with fewer errors. At MicroThermics, we are Always Innovating® to help you reduce your time to market with new products!
Steam Injection Processor
Insights of MicroThermics New AI Direct / Indirect (AI DIPW) Lab UHT/HTST Processing Line
The current market demands a diverse selection of Dairy and Plant-Based products, including milks, protein shakes, yogurts, ice cream, and desserts that can maintain their quality for extended periods. In-line homogenization plays a crucial role in preserving the nutritional value, flavor, and texture of well-formulated dairy products during various thermal processes. Pasteurized milk serves as the foundation for fermented products like yogurt and sour cream. Similarly, there is a growing need to create stable formulations for plant-based products.
Developing stable formulations for plant-based products can be challenging due to the diverse origins of plant-based ingredients. This poses a significant obstacle for ingredient and finished product manufacturers striving to achieve consistent product characteristics after undergoing thermal processing.
To address this challenge, MicroThermics AI DIPW Series UHT/HTST lab processors empower developers to accurately process new formulas and seamlessly transition them from the laboratory to full-scale production. This efficient solution enables swift and hassle-free scaling of innovative plant-based product formulations.
What Products Can You Make on MicroThermics New AI DIPW Series Lab UHT/HTST Processing Lines?
Milk & Flavored Milk
Plant-Based Milks
Nutritional Supplements
Fruit Concentrates
Enteral Feeds
Juices, Teas & Coffees
Broths
Apple Sauce, Yogurts
Gravies/Cheese Sauces
Puddings & More!
What Processes Can You Run on MicroThermics New AI Direct / Indirect (AI DIPW) Lab UHT/HTST Processing Line?
UHT Processing
 (Direct or Indirect):
Aseptic Processing
Extended Shelf Life (ESL)
High Acid Aseptic Processing
Ultra Pasteurization 
HTST Pasteurization
Starch Hydration
Continuous Cooking
Hot Filling 
(With or Without Hold)
Sample Flow Diagrams
(30 Processes & Flow Diagrams Are Standard)
Simple Process Set-Up Guide

Simple "Hands-Off Operations"

Start-up, SIP, & Process Transition

Sequential Automation

Automated Controls Include:

Inlet and Flow Rate

Product Pressures

Heating (Direct and Indirect)

Vacuum Cooling

Vacuum Product Level

Homogenizer Flow

Cooling

Sample Filling & more
Touchscreen PLC

Process Recipes

Extensive Data Acquisition

Sanitary Design 

Vari-Speed Product Pump

Hold Tube Bank

Jumper Panel

Multi-piston, 2-stage Homogenizer

Lab Bench Enclosure w/sink
Top Benefits of AI Direct / Indirect (AI DIPW) Lab UHT/HTST Processing Line
Fast, Easy, & Convenient to Use: MicroThermics' new, easy-to-use, "AI Series" UHT/HTST lab processing lines dramatically reduce training needs and eliminate hours of equipment operation per day. With the push of a button, they automatically conduct:

Start-Up & SIP
Transition to product processing conditions
Then notify the operators that it is ready to process product
Once product processing is complete, CIP is easy with high CIP velocities, and CIP timers. Then a fully automated shut-down is conducted with the simple push of a button.

Ease-Of-Ownership: These processors are not just easy-to-use; they are truly easy-to-own. They feature durable, sanitary designs, automated set-up guides, intuitive touchscreen controls, and highly automated operations. Their automation and ease-of-use dramatically reduces training requirements. Their sanitary designs combined with the automation also eliminate hours of daily operation, leaving more time for processing! Most products are processed at approximately 1 LPM, but they can go as fast as 3 LPM. Thus, multiple batches can be processed every day. Finally, their durability means they require little downtime for maintenance. This ease of ownership, accuracy, and ability to process products at a wide range of conditions dramatically reduces R&D time and costs, and makes them invaluable R&D tools.
Process Flexibility: The AI Series Processors are capable of processing at both the HTST and UHT temperature ranges in a single processing line. These processes can include a wide range of associated unit operations such as Homogenization, and Ultra-Clean Filling.
Numerous Applications: Their unique design enables a wide range of products to be created, all on the same equipment, so there is no need to purchase multiple processors. You can use them to develop Dairy and Plant-Based products ranging from milks, protein shakes, beverages, juices, tea, coffee, yogurts, ice creams, nutritional supplements, and even cheese sauces and puddings.
Our clients use them for:
Formula Qualification & Development
Ingredient Qualification
Taste Panel Sample Creation
Trade Show Samples Creation
Shelf-Life Studies
Other Custom & Basic Research
Process Accuracy: The process you use in the lab must match commercial conditions, or your products will not scale up to production, and your R&D time is wasted. MicroThermics specializes in process-matching and scaling up/down thermal processes. Our designs and flexibility can enable you to go from research directly to production, saving you valuable time and money.
Durability: The AI series UHT/HTST processors are highly durable. MicroThermics knows that in R&D, unexpected reactions occur. These reactions can create burn-on/fouling, pressure increases due to high viscosities, and other other extreme conditions. Our equipment is built to stand up to these types of unexpected events, unlike other processing equipment. This durability ensures a very long life, simple maintenance, and very little down-time.
Extended Warranty & Technical Support: The MicroThermics team provides

Extended warranties
Extensive technical support
Processing advice
Custom maintenance and support services

Options (Partial List):  These processors are only 1 part of a complete laboratory processing line. For a full line, pair them with our options such as:
Custom Programming
Added Hold Tubes and Coolers
CE or NRTL marking
Feed/Mix Tanks
Steam Generators, Water Chillers
Spare Parts, Tool Kit, and More!
Get detailed insights into the products with easy displays with an intuitive interface. Our easy-to-use UHT/HTST lab processing line equipment saves time on multiple processes, allowing your whole R&D operations to run FASTER. You'll get improved productivity in manufacturing and R&D, and a faster ROI on equipment.