Steam Injection Series UHT/HTST Processors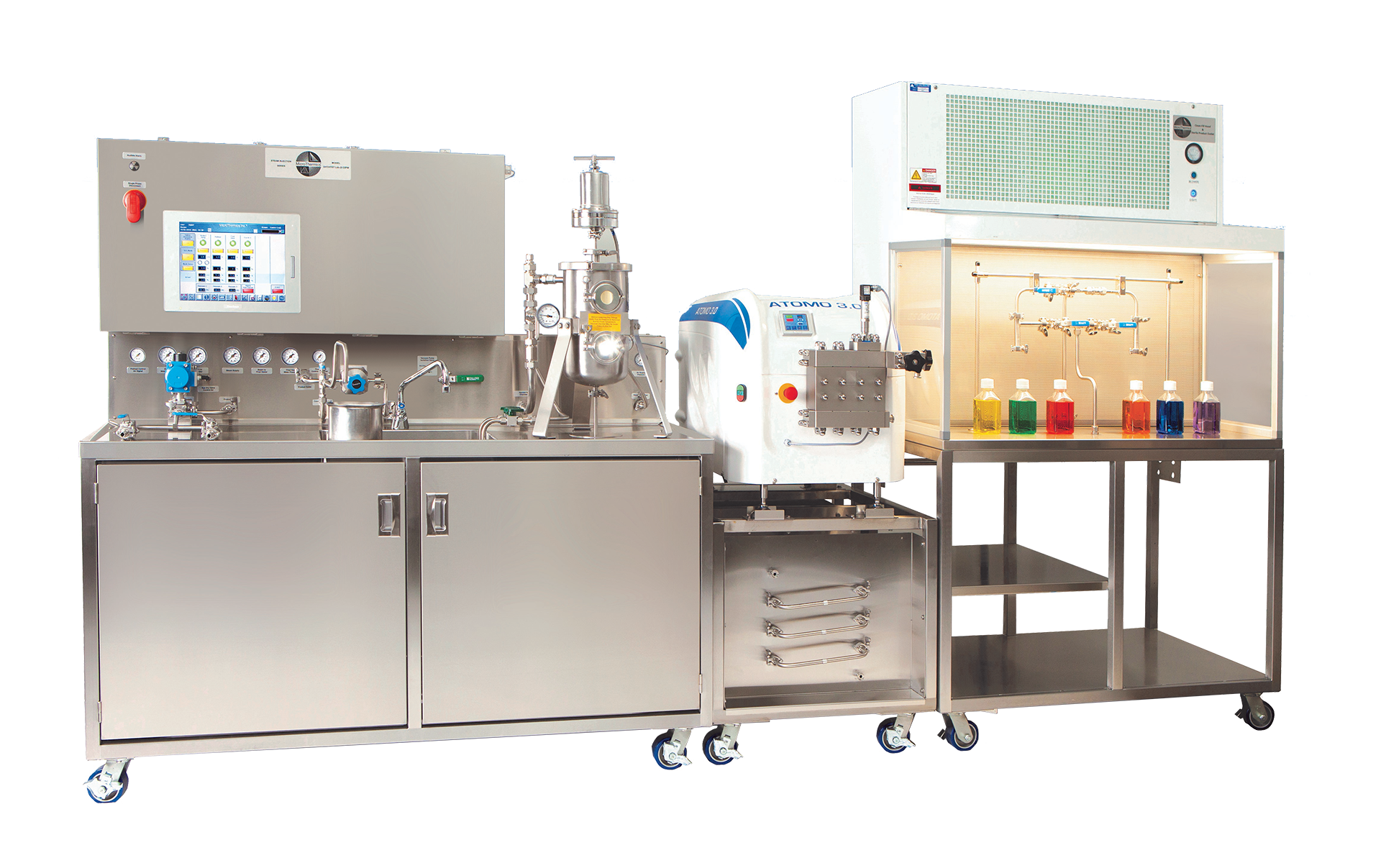 Steam Injection Series Cabinet Seen Above With Full Processing Line
What are the Benefits of MicroThermics' Steam Injection Series Processing Equipment?
The accuracy to commercial processes, and ease-of use of our equipment:

Enables researchers to quickly develop products and get them to market
Reduces costs, minimizes development time & eliminates failed plant trials

MicroThermics steam injection processors do the work of multiple pilot plant processors:

They combine steam injection and indirect processing capabilities in one small cabinet
This avoids the expense of purchasing, installing, operating, and maintaining multiple pilot systems

The flexibility of MicroThermics Steam Injection lab processors enables clients to process the widest range of products on one machine:

Dairy milks, Plant-based milks, protein shakes, puddings
Juices, smoothies, teas, coffees, concentrates

Simple set-up, ease of use, and intuitive controls:

Reduce training requirement, minimize operator errors & maximize operating time
Insights of MicroThermics Steam Injection Series Lab UHT/HTST Processors
In the past decade, steam injection processing has increased in popularity. It enables long run times of products that may foul in an indirect process (like highly formulated plant-based beverages) and yield high-quality, smooth products. However, it is essential to find a match between the product and the process.
Some Steam Injection Series processors are capable of both steam injection and indirect UHT/HTST processing, providing developers with maximum processing capability in one piece of equipment. They are easy to use and the most accurate means to simulate commercial processes. This flexibility enables you to quickly move from R&D to production while eliminating costly failed plant trials.
What Products Can You Develop on the MicroThermics Steam Injection Series Processors?
Plant-Based & Dairy Milks
Protein Shakes & Nutritional
Yogurts
Gravies / Cheese Sauces
Puddings
Juices, Teas & Coffees
Juices with pulp
Apple sauces
Fruit Concentrates
Smoothies & more!
What Processes Can You Run on the MicroThermics Steam Injection Series Processors?
UHT Processing
Low Acid Aseptic Processing
Steam Injection Heating/Vacuum Cooling
Indirect Heating
Available Up/Down Stream Homogenization
Extended Shelf Life (ESL)
Continuous Cooking
HTST
Hot-Fill with and without hold tube
Pasteurization & Ultra-Pasteurization
High Acid Aseptic Processing
Starch Hydration
Custom Processes
What Are The Applications Of This Equipment
Formula Qualification
Ingredient Qualification
Taste Panels
Trade Shows
Shelf-Life Studies
Other Custom & Basic Research
What are the key features of Development Series UHT/HTST Equipment?
Accurate Process Simulation
Simple Operation
Touchscreen controls with operator guide and data acquisition
Process and Product Flexibility
Sanitary Design
CIP cleaning and SIP Sterilization
Convenient Lab Bench Enclosure
Who uses MicroThermics Processing equipment?
Researchers and Food Scientists
Food Manufacturers
Dairies
Plant-Based Food Manufacturers
Beverage Manufacturers
Ingredient and flavor companies
Electrically heated models-Development E-Series UHT/HTST
Voltage: 1Ø and 3Ø
Clean, Dry Culinary Steam
City Water
Cooling Water
Control Air
Drain
70.5" (1.79m) long x 32" (0.82m) deep x 67" (1.7m) tall
Please feel free to ontact MicroThermics, Inc. for more information and queries regarding MicroThermics Processor Equipment. We have special discounts available for our customers and have our distributors in Europe, Thailand, and Japan. Email info@microthermics.com or pick up the phone and schedule a call for top-rated UHT/HTST/Aseptic Processing solutions.